TEENS
Teens - Electrolysis…So You Look Your Very Best
The adolescent years are among the most exciting and challenging times in a person's life. A teenager's future holds a lifetime of changes that profoundly transform both body and mind. As teens are coming into their own, physical changes such as unsightly hair can negatively impact body image and self-esteem. For teen girls, it could be the growth of superfluous hair on the side of the face. For teen boys, it may be the emergence of thick, bulky eyebrows. Some young people feel too embarrassed to speak about their hair concerns, while others go to a parent for advice.
If you're a teen or the parent of a teen, you can rest assured that there is a permanent solution for removing excess hair safely, comfortably and conveniently – Electrolysis.
Proven Treatment
Electrolysis is a permanent hair removal process that can be used safely to treat a young person with excess hair. Unlike other hair removal methods, professionally performed Electrolysis eliminates unwanted hair – permanently – with unsurpassed results. Electrolysis works on all skin and hair types. No other solution can claim such universal acceptability and success.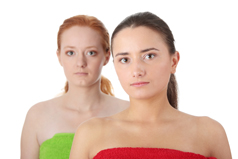 It's A Treatment As Individual As Today's Teen
There is no better hair removal solution than Electrolysis, a treatment that's as individual as you. For example, many teens have enjoyed permanent removal of unwanted hair between the eyebrows. In fact, Electrolysis works on almost any part of the body, including the face, chest, abdomen, bikini line, legs and back.
Answers to general questions about electrolysis are available on the
FAQ page.
Information above is provided by Electrologists Association of New Jersey
For more information or to schedule an appointment or consultation, please call: 201.447.5347.
Home | About Electrolysis | About Us | Contact Us | Cosmetic | Dark Skin | Facials | Faqs | FDA | Links | Map & Directions
Men | Site Map | Teens | Testimonials | Tinting | Transgender | Waxing | Women